Let me start by saying that I've been a bad, bad mod and I deeply apologize for lack of Andy updates. I tend to forget that there are other fans outside of my little circle of friends, so I neglect posting things here since I figure everyone else already knows. I promise to update here whenever new information pops up from now on. :)

That being said, as some/most of you know, Andy just finished with Four Guys Named José which ran for four weeks at the Aurora Theater in Atlanta and closed this Sunday. He was the Mexican José, and that amuses me to no end. It also amuses me that he wore black pleather pants and cowboy boots and totally got crazy down with his bad self in every show to 'The Macarena' but I'm sure nobody here cares about that.

You can read a review on creativeloafing.com here, or you can skim it under the cut and read only the Andy-relevant parts which are bolded for your convenience. (Oh, what a kind and loving mod I am)

Average José
José throws fiesta for Latin music

BY CURT HOLMAN

Aurora Theatre gives an impromptu Spanish lesson early in its festive musical revue 4 Guys Named Jos & Una Mujer Named Maria. As José Cubano, producing artistic director Anthony Rodriguez tells "gringos" in the audience that if they need help with pronunciation, just ask someone to the left or right - because, his voice dropping with mock intimidation, "Latinos are everywhere!"

The joke tweaks anxieties over Latino immigration, but also speaks to both José's content and its target audience. The musical offers a lighthearted overview of Latino song, focusing on its influence in mainstream American pop and its place in the hearts of Latinos in the United States. Having already founded the Spanish-language Teatro del Sol, Aurora continues to reach out to Latino audiences with José, a cheerful evening that may be a little too scruffy for its own good.

Four Latino gents - José Cubano, José Mexicano (Andy Meeks), José Boricua (Luis R. Hernandez) of Puerto Rico, and José Dominicano (Bradley Bergeron) of the Dominican Republic - all suffer homesickness in wintry Nebraska. To celebrate their musical heritage, they stage a show at a Veterans of Foreign Wars hall, only to discover that by some mix-up, instead of the "Maria" they'd hired to sing, they get a stranger with the same name (Denise Arribas). The show's already started, and they just met a girl named Maria.

The cast and director Susan Reid embrace the idea that the Josés are enthusiastic amateurs. During the opening number, "Feel It," they awkwardly doff their scarves and parkas to strike absurdly macho poses, a send-up of machismo not far removed from the unlikely male strippers' dance in The Full Monty. They seem to intentionally strive for the overenthusiastic performance style of wedding singers or karaoke contestants.

Early on, the play expresses amusingly mixed feelings about Latino music stars. Arribas wears a fruity headdress for Carmen Miranda's "I Make My Money with Bananas," a tongue-in-cheek tune about the famed singer's own stereotypical image. Similarly, a medley of crossover acts from Ricky Ricardo to Ricky Martin knows exactly how ridiculous one-hit wonders can be: A few moments with "La Macarena" gets the biggest laughs of the night.

Sometimes the humor builds to a sharp point. Hernandez sings the original, Spanish-language "Frenesi" like a Dean Martin-style crooner, while Meeks more closely resembles Jerry Lewis when he warbles the frivolous, Americanized treatment of the tune. But much of José presents silliness for its own sake. Rodriguez hilariously parodies a would-be Don Juan in "Besame Mucho (Kiss Me a Lot)," and the hombres engage in slapstick squabbling like the Four Stooges in "Es Mentiroso (He is a Liar)."

Hernandez wins audience favor with a naughty-boy leer like a young Peter Boyle. Though Meeks generates the most overexcited clowning, he unexpectedly provides the show's most passionate singing in "Veracruz." At times, Bergeron seems the odd man out. Though he has the fullest singing voice, he seems too much a veteran of formulaic musical theater, as if he's not quite in on the joke like the others.

After the wall-to-wall whimsy of the first act, it's hard to take José's second half seriously, even though it downplays the comedy to conjure genuine nostalgia for the Josés' homelands. Despite tight, spirited numbers like "La Manisera" and "Mi Tierra," the sentiment feels too much like a pose as the Josés bid farewells with suitcases in hand. The sincerity feels similarly feigned when each actor serenades the leading lady with a different "Maria"-titled song.

4 Guys Named José & Una Mujer Named Maria provides a fresh alternative to golden oldies-style revues like Five Guys Named Moe. It even has a little educational value if you can't tell salsa dancing from the merengue. More polish would give the show greater across-the-board appeal, but the sloppiness didn't bother the woman sitting behind me, who sang along to nearly every song. Clearly José was speaking her language.


You can also read a second review here on atlantalatino.com, or follow this cut and skim as well. This article also has pictures!! :)

Latin musical transcends languages barriers
By Ana Catalina Varela
avarela@atlantalatino.com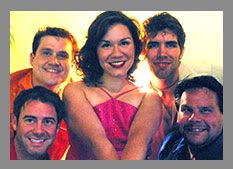 The show is directed by Susan Reid and choreographed by Jen MacQueen, with the acting of Denise Arribas, Anthony Rodriguez, Luis Hernandez, Andy Meeks and Brad Bergeron.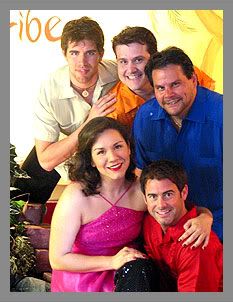 The story is about four Hispanic men, one from Cuba, one from Mexico, one from the Dominican Republic and one from Puerto Rico, all named Jose and a woman named Maria.

05/19/2005

If laughter can be translated in any language and music transcends all cultural borders, than the show "Four Guys Named Jose and Una Mujer Named Maria", is a staged fusion of all of this and more.

The story is about four Hispanic men, one from Cuba, one from Mexico, one from the Dominican Republic and one from Puerto Rico, all named Jose, who end up living in Nebraska during a harsh winter. Although the four men come from different backgrounds, they have more than their name in common, they also all love Latin culture and music.

Looking to bring tribute to their roots they put together a show with tropical sounds in order to mentally avoid the chilling temperatures outside. Things go head-over-heels when Maria comes into the picture and spices things up.

"Not only do the Joses come from different countries and cultures, but they all have very distinct personalities. Each one of them has a reason to long for their homeland and why they want to put together this show within the show", said Luis Hernandez, who plays Puerto Rican Jose.

For Hernandez, the show is a fun way to introduce the public to Latin culture and the Spanish language.

It is also a way for Hispanics that were born in far away countries to reconnect with their roots and for Latinos that were born here, it's a way of presenting to them more about their culture and the importance of keeping traditions alive for future generations. For the public in general, the show will be an instructive and fun experience.

This show with dialogues in English and music in Spanish is filled with quirky and funny situations.

Some of the songs included in the musical are "Perfidia," "Babalu," "La Bamba," "Besame Mucho," "Sway with Me," "Maria Elena," "Amor, Amor," and "La Vida Loca".

For Al Stilo, director of sales & marketing for the Aurora Theatre, the language of music is universal and lot of Latin music has already become part of American culture, whether people realize it or not.

For him this is a very exciting show and a great opportunity for people to get closer to Hispanic culture if they know little about it or even if they know a lot.

"I would love people to walk away from the show thinking we are more alike than we are different. It would also be nice if they left wanting to take a Salsa dancing class or learn some Spanish. Then I would know we built a bridge", said Anthony Rodriguez, producing artistic director and Cuban Jose.

The Aurora Theatre, is the only professional theatre in Gwinnett County and the home of Teatro del Sol.

The show is directed by Susan Reid and choreographed by Jen MacQueen, with the acting of Denise Arribas, Anthony Rodriguez, Luis Hernandez, Andy Meeks and Brad Bergeron.


Anyway, he's now getting things together for his production of The Last Five Years.

As stated on the Kudzu Playhouse website, Andy will be performing The Last Five Years there from June 24th and 25th, and July 1st, 2nd, 8th, and 9th. in Roswell, Georgia.

He will also be performing the show at the Athens Creative Theatre located in Athens, Georgia, the latter four weeks of July, although the theatre's website didn't have the dates or any information on it. I'll post again when I get the dates, but you just can't ever get a straight answer out of that man. ;)

And that's all that I've got for you guys right now. Hope it's enough to hold you over until the next update, which should hopefully be soon! Until then, love the mods, continue loving Andy, and join the coup! support worthy causes and the like.

-Sami